Wi-Fi 6: The Future of Wi-Fi is Here
Read all about the latest innovations in Wi-Fi: Wi-Fi 6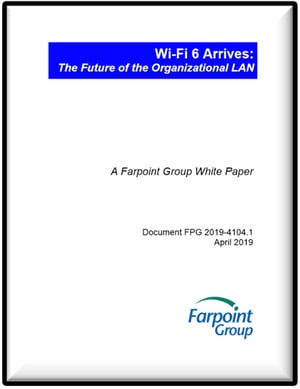 Everyone needs faster and more reliable wireless networking.
Download the Farpoint Group Analyst Report on this page for a really clear and unbiased overview as to the benefits next-gen Wi-Fi 6 delivers, how it compares to 5G, and how best to upgrade.
Hear from independent experts about what Wi-Fi 6 is and if Wi-Fi 6 is the best fit for your business.
If you're serious about your wireless network, download the report and let's connect.
---
The Farpoint Group Wi-Fi 6 White Paper outlines:
- Why Wi-Fi 6 is replacing all previous Wi-Fi certifications
- The key feature evolution plus brand new innovations
- What challenges need to be considered in adoption
- How Wi-Fi 6 co-operates with 5G
- The next action IT managers should take now.
Complete the form below and we'll send over the White Paper - happy reading!
---
If you need any help with your Wi-Fi install, feel free to contact us, or drop us a line to our sales@iptel.com.au mailbox.
Download Farpoint Wi-Fi 6 White Paper